Keeping it simple and straight to the point is the basic training all kids need in life, for life itself.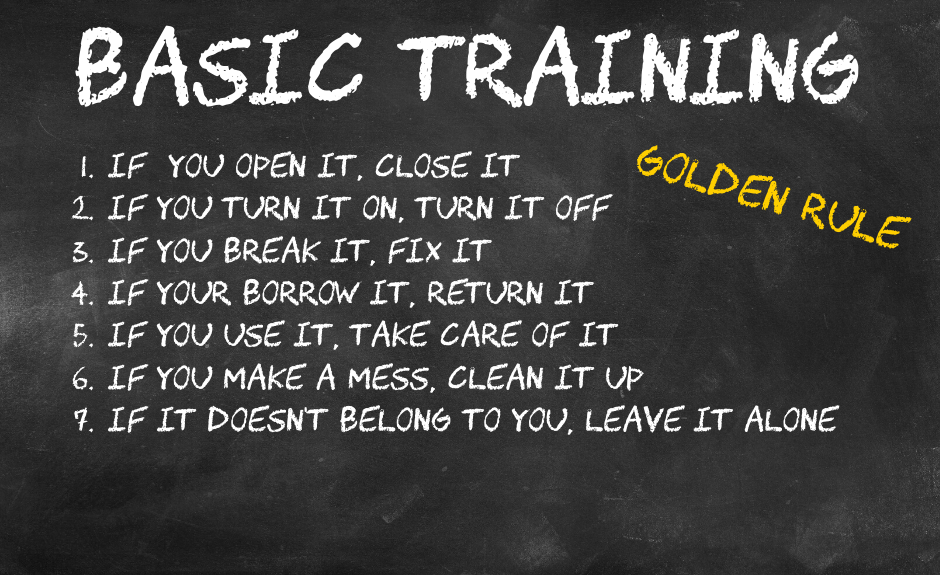 Teaching your kids to respect the basics will help them as adults. What way do you teach your kids to follow the golden rule? What simple rules do you have in your home that you follow so that your kids will do the same?
Teach the Golden Rule
At Shepherds Hill Academy we post signs on various buildings on campus titled, Basic Training. They read like this, "If you open it, close it, if you turn it on, turn it off, if you unlock it, lock it, if you break it, repair it, and if you can't fix it, call in someone who can. It also reads, if you borrow it, then you should return it, if you use it, take care of it, if you make a mess, clean it up, if you move it, put it back, if it belongs to someone else, you get permission to use it. If you do not know how to operate it, you should leave it alone and if it doesn't concern you, do not mess with it.
All of these little quotes are simply applications for teaching kids the golden rule. If you teach your kids the same, then they will be a blessing to everyone that they encounter.
Photo via: Canva